The Global Defence Solutions team are excited to be attending this year's LAND FORCES 2022 (International Land Defence Exposition) at the Brisbane Convention and Exhibition Centre from 4 – 6 October. LAND FORCES is a key meeting hub for Australian and international industry, defence, academia and government, as the Australian Army executes the largest peacetime acquisition phase in its history.
Come and say hello 👋  You can find us on STAND 3A10 in Hall 3. We will be showcasing our state of the art V-Series tents, with our partner i-4S, along with a range of air-conditioning, lighting and power solutions.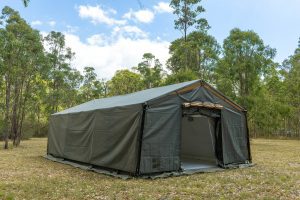 Global Defence Solutions (GDS) supplies a complete range of bespoke deployable infrastructure solutions. Our products include hard and soft shelter systems, deployable field infrastructure, air-conditioning and lighting and power solutions. Highly mobile and versatile, our range is custom built and can be easily adapted to meet unique requirements.
To arrange an appointment with one of the representatives on our stand, feel free to email Julia Guy at jguy@alkath.group
www.landforces.com.au